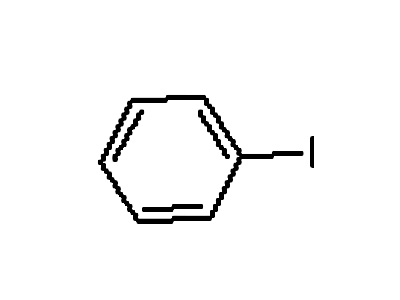 【Alias】iodobenzene; iodide benzene

Iodobenzene
【Formula (Formula)】 C6H5I
【Molecular Weight (Molecular Weight)] 204.01
【CAS No.】 591-50-4
Quality Index (Specification)
【Appearance (the Appearance)】 light yellow liquid
【Content (Purity)】 ≥ 98.5% pharmaceutical grade LCD level ≥ 99.5%
【Physical and chemical properties (Physical Properties】
【Density】 1.82
【Melting point】 -30 ℃
【Boiling Point 】188 ° C
【Refractive index】1.618-1.62
【Flash point 】74 ° C
【Solubility】 soluble in alcohol, ether, benzene, chloroform, insoluble in water.
A colorless, heavy liquid. When exposed to light, air, placed easy to turn yellow, the special smell.
Low toxicity, the median lethal dose (rats, oral) 1799mg/kg. Irritation.
【Iodobenzene storage]】
Seal a cool, dry stored.
【Iodobenzene purposes】
Measuring the refractive index standard solution. Organic synthesis. Industry for liquid crystal materials, pharmaceutical raw materials, intermediates.