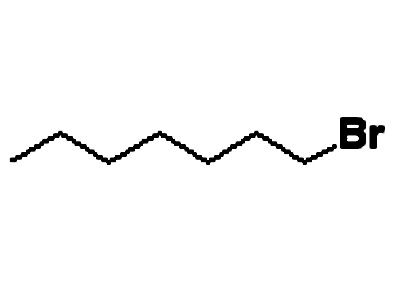 【Molecular Weight】 179.1100
【CAS No.】 629-04-9
Alias ​​olfactory n-heptyl, bromo-heptane, 1 - bromo-n-heptane, bromoheptane, Heptyl bromide
【Density】 1.14
【Melting point】 -58 ° C
【Boiling Point 1】80 ° C
【Refractive index】nD20: 1.4489-1.4509
【Flash point】 60 ° C
Colorless or pale yellow liquid. Insoluble in water, soluble in ethanol, ether and other organic solvents. Can be hydrolyzed to n-heptyl alcohol, ammonia solution of n-heptyl amine. React in dry ether with magnesium to generate the Grignard reagent was generated by the Wurtz reaction (Wtirtz reaction), n-tetradecane.
Reaction decarboxylation obtained by the n-octanoic acid silver (or mercury salts) with bromine. Used in organic synthesis.